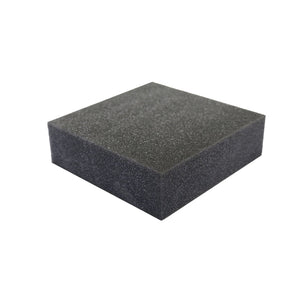 24" x 27" Charcoal Foam Square
Charcoal Foam
NOTE: Dacron/Batting is wrapped like a book (top, one side, bottom) unless specified otherwise.
Density 1.8; 44lb compression rate
Made in the USA

100% recovery rate and lasts from 3-7 years

Free Shipping!
Tips:
 Thinner foam is softer and thicker foam is firmer. So, the thicker the foam, the firmer it will feel.
If replacing cushions please 

measure between the seams or between the cording of the case, with the foam inside.

Ask about our dacron batting wrap! Would you like a rounder smoother edge for your cushions? Prevent slippage and reduce friction to help your cushions last longer!